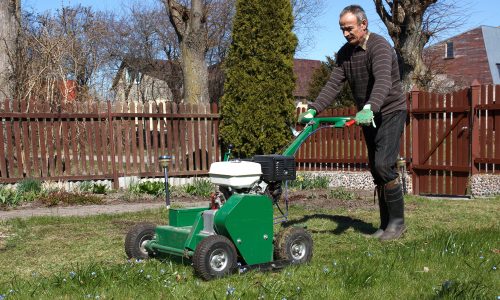 A rice field is plowed every year to reduce soil compaction. Your lawn is the same thing. But instead of plowing, the lawn is aerated.
What is lawn aeration? It is a process of making holes in the turf to allow water, air, fertilizer, and other healthy components to reach the root zone more quickly than ever, leading to root growth and development. 
Lawn aeration Calgary is technical, requiring wide expertise and state-of-the-art technology. Whether your lawn has compacted soil and buildup of thatch, Best Lawn Care Calgary is the sought-after and number one specialist to call. 
Equipment for lawn aeration Calgary is highly accessible in today's market. So, DIY core aeration is possible. But nothing is more cost-effective, stress-free, and convenient than entrusting all your lawn needs to Best Lawn Care Calgary. 
We have the most high-end tools and a team of capable Calgary lawn care professionals. We only invest in state-of-the-art equipment. Plus, our lawn experts have completed a growing number of competitively priced and customized core aeration. 
Benefits Of Our Lawn Aeration Services
Control & Minimize Thatch Buildup 
Aside from being an eyesore to your lush lawn, thatch buildup can lead to extensive root damage and other serious problems. With professional lawn care Calgary services, you can say bye to any thatch layer development, helping you save some cash over time.
Reduce the Risks of Soil Compaction
Soil can be more compacted because of vehicle or foot traffic. Heavy snow coverage for a prolonged time can also make soil compaction issues worse. Common signs include weed infestation, excess thatch, lawn disease, grass color, and poor drainage. We provide lawn aeration Calgary services that will bring back the quality and appeal of your turf. 
Reduce Recurring Weeds
A dense and heavy plant habitat prevents weeds from forming in your yard. Loose soil from core aeration affects weed growth because their roots cannot gain a strong foothold. Once the soil is aerated, it encourages deep root turf growth, making the grass blades grow taller, healthier, and shinier than you've expected.
Why Should You Choose Our Professional Lawn Aeration? 
Who doesn't want to save some cash with their lawn maintenance? Everyone likes that. At [Insert company], we are committed to delivering quality and competitively priced Calgary aeration services. Here are the other things we promise: 
Different Types of Aeration Tools. We have spike aerators, core/plug aerators, and other innovative equipment to fix thatch buildup and soil compaction. 
Simple Procedure. Established with the client's convenience and satisfaction in mind, we streamline and scale our lawn care Calgary services, from aeration, fertilization to weed control. There's no long waiting time. We take pride in our quick maintenance. 
Fast and Good Results. Once your turf is aerated, the thatch buildup and soil compaction will improve within a few weeks. We provide excellent and quick results your lawn deserves. 
Request a Free Quote Now! 
Quality lawn aeration? Competitive rate? A flexible and qualified team? Fast completion of lawn maintenance? Our Calgary lawn care company has them all. Our individualized lawn services resulting from our years of experience in the industry, advanced equipment, and a well-dedicated team. So, what are you waiting for? Contact us for your lawn aeration needs and requirements.